ROBOMINERS partners had the chance to introduce our project at the annual EGU General Assembly in Vienna.
Consortium partners under the lead of Giorgia Stasi (Geological Survey of Belgium) convened a session entitled "Mining the future: new trends and technological advances in mining exploration and production // Novel developments in understanding the petrogenesis of REE resources: Modelling, experimental petrology, mineralogy, and geochemistry".
Within this session, a poster on "ROBOMINERS resilient reflectance/fluorescence spectrometers" was presented.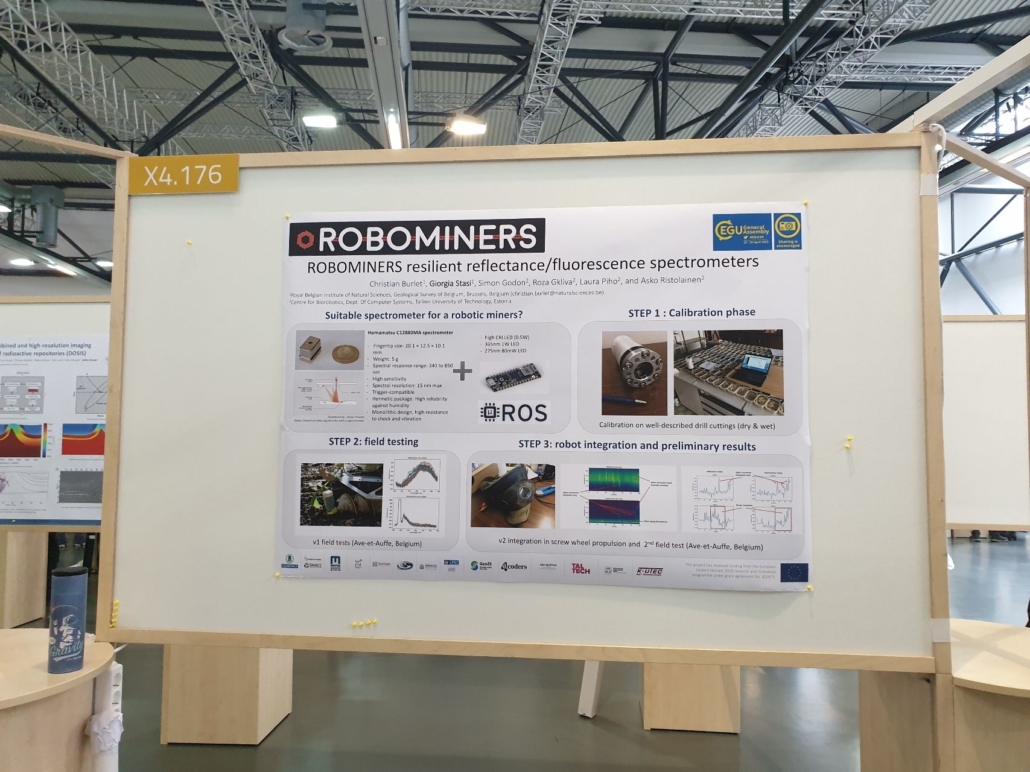 As part of the ROBOMINERS sensor array development, a set of mineralogical and geophysical sensors are designed to provide the necessary data to achieve a "selective mining" ability of the miner to reduce mining waste production and increase productivity of a small mining machine. To achieve this, the robot should have the ability to react and adapt in real time to geological changes as it progresses through a mineralized body. This study focuses on a set of compact sensors designed for ultrahigh-resilience and continuous operation in high pressure/vibrations/temperature environment. They are based on reflectance/fluorescence measurements in the visible/near infrared range, using a broadband light source (tungsten-halogen lamps) in reflectance mode and 365nm UV LED in fluorescence mode.
The ROBOMINERS reflectance/fluorescence spectrometer "Mk1" was developed in collaboration with Taltech University. The spectrometer is built around a monolithic spectrometer (Hamamatsu C12800MA and a wifi capable microcontroller (Arduino RP2040 Connect).. As the ROBOMINERS prototype will be operated by ROS2 (Robotic Operating System v2 – https://www.ros.org/ ), we decided to implement a Micro-ROS publisher on the microcontroller.
The first field trials of the sensor have been carried out in the entrance of abandoned mine (baryte and lead mine, Ave-et-Auffe, Belgium), with the sensor integrated directly in the propulsion mechanism of the "RM3"' ROBOMINERS prototype. This test allowed to demonstrate the immunity of the sensors to  to shocks, water and dust with no measurable de-calibration of the spectrometer.
References.
Lopes, B. Bodo, C. Rossi, S. Henley, G. Žibret, A. Kot-Niewiadomska, V. Correia, Advances in Geosciences, Volume 54, 2020, 99–108
How to cite: Burlet, C., Stasi, G., Godon, S., Gkliva, R., Piho, L., and Ristolainen, A.: ROBOMINERS resilient reflectance/fluorescence spectrometers, EGU General Assembly 2023, Vienna, Austria, 24–28 Apr 2023, EGU23-12056, https://doi.org/10.5194/egusphere-egu23-12056, 2023.
https://robominers.eu/wp-content/uploads/2023/05/mining_future.jpeg
1151
2048
Astein
https://robominers.eu/wp-content/uploads/2019/08/logo_rm_horiz.png
Astein
2023-05-04 09:08:57
2023-08-08 16:13:35
ROBOMINERS at EGU 2023